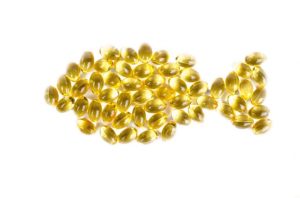 Omega 3's are in the news once again, this time these essential fatty acids have been shown to help support eyes.
According to new research, supplementing with Omega 3 essential fatty acids may wipe out dry eye syndrome improving symptoms of this condition by as much as 105%.  Dry eye syndrome affects up to a third of the population worldwide.  Dry eye syndrome causes stinging and itchy eyes and may cause sensitivity to light.  Untreated, dry eye syndrome can impair vision and cause blindness in extreme cases.
60 individuals with moderate dry eye disease supplemented with either 1.2 grams of Omega 3 essential fatty acids or a placebo of Vitamin E.  The study lasted 12 weeks.  Participants receiving the Omega 3 supplements experienced significant improvements in their ability to recognize increments of lightness and darkness which is called contrast sensitivity.  Contrast sensitivity is critical for driving at night or in the fog or other low light situations which make it difficult to contrast between objects and their backgrounds.
How do you know the fish oil you are taking is the highest quality?
Make sure your fish oil is molecularly distilled.  This process removes all potential toxins.  Also Omega-3's that are manufactured to comply with strict European standards will be free of heavy metals, PCB's, dioxins, pesticides and other unwanted compounds.
How can you avoid those nasty fish burps?
An enteric coating will protect the Fish Oil from the harsh environment of the stomach, enabling the softgel to make it to the small intestines where it can be digested and the fatty acids released and absorbed by the body.
ASK US.  WE KNOW.  NOBODY KNOWS NUTRITION LIKE WE DO.  NOBODY ! ! !
https://naturesvitaminsonline.com